The 10 Be's of Positivity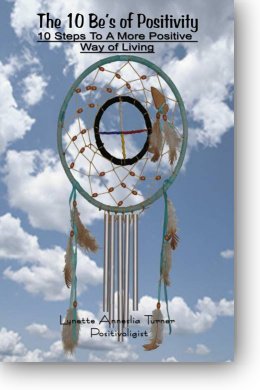 In this accessible, practical book, Lynette Turner shares with the reader ten steps she has incorporated into her life that have enabled her to live a life full of light, peace, happiness and ultimately positivity. She believes you can do so as well. Journey through this book and encounter tips on how to, Be Honest, Be You (your authentic self), Be Open-Minded, Be Loving, Be a Good Listener, Be Grateful, Be Spiritual, Be Positive, Be Forgiving and Be Present/In The Moment. This self-help book can be referred to time and time again as a gentle reminder of a positive path one can take in order to appreciate and enjoy life to the fullest.

"This is a practical book, filled with wisdom, which can easily be applied to one's daily life. The changes it can coach you into creating will help you to enhance the quality of your life and heal your emotional wounds." - Bernie Siegel MD author of 365 Prescriptions For The Soul and Love, Magic and Mud Pies

"What a perfect book! THE 10 BE'S OF POSITIVITY™ is wonderful, brief and my kind of book. The 10 BE's are easy to remember and will help every reader live life to the fullest and be happy." - Dr. Robert Muller is co-founder of the University of Peace, served as Assistant Secretary General of the United Nations, and is author of several books including Most of All They Taught Me Happiness
Click here to read more of what others are saying.

Marble House Editions, 2007, 77 pages, ISBN 0-9786745-5-3
PayPal provides our secure server to order the book -
no PayPal account necessary
The 10 Be's of Positivity!
Paperback $11.00

The 10 Be's of Positivity!
E-Book $8.00

Shipping and Handling fee Waived!
When you Order of 5 or more Books!

Book Fee: $11.00
Shipping and Handling: $0.00

NOTE: Be SURE to select the number of books you wish to purchase when you arrive at the PayPal payment page. The default is set to one, you'll need to insert a minimum of 5 to receive free shipping and handling.
Book Review July 2009 10 Be's of Positivity
Lynette Turner's new book is a gift of deep wisdom in 10 small, easy-to-digest capsules of simple positive change. Absent are both the ego-heavy presentation of a lot of self-help books and the "you-should" prescriptions of many more. She suggests readers use her book like a menu, selecting what they need at the moment to develop new thought and behavior patterns as they digest these 10 positive steps toward creating a happier life.

Creative, intriguing techniques in Tuner's approach include using the power of color associations surrounding positivity actions: for example, being loving (pink), or grateful (dark blue), or positive (gold). Another tactic is to start a buddy-system to work on the more upbeat lifestyle developing through the book's teachings.

The presentation of the steps to a more positive life is done with nuggets of information set off on their own followed by short paragraphs in white-space frames. This layout in "menu" format makes using the book a delight for the busy reader. We can find and use what is needed now. The compact size of 77 pages is light enough to carry with us for quick bursts of positive energy throughout the day.

Lynette Turner proposes we strengthen the "be's of positivity": be honest, be open-minded, be loving, be grateful, be spiritual, be positive, be forgiving, be a good listener, be yourself and be present/in the moment. Because we cannot become completely happy people in a short time, Turner offers a plan to spend a year on this work: digesting the book for a month, practicing one "be" per month for 10 months, then re-reading and evaluating our changes during month 12, while sharing the work with a group of friends.

There is a satisfying balance here among questions to the reader, personal anecdotes and positive suggestions for behavior change. Turner treats us to a view of her work desk and her meditation alter, and shares how she learns to deal with sugar cravings. We become friends with Lynette Turner as we read, as she hopes we become friends with ourselves. The book will take us there.

Kay Vreeland, member of Alaska Writer's Group
This review will be published in the magazine Alaska Women Speak
"A portion of the book proceeds will be donated to the
African Institute for Democracy and development in Cameroon, Central Africa."







Let's Spread the Word!
I am on a journey to engage like-minded people on the path of positivity. Please share this website with others and ask them to sign up below to receive a Free weekly Positivity Message and share the Power of Positivity with the world.