B.L.I.S.S. - Believe Life Is Something Special!

I am a Positivoligist™ and an ordained interfaith/interspiritual minister. I work with individuals and groups of people to help them create the most positive, productive and energized life possible in order to live a fulfilled life.

The modalities I offer provide the tools you need to bring clarity of thought into your life, followed by viable action. You will have the ability to look at your circumstances from the viewpoint of "new beginnings", whether you are approaching a current life situation with a new point of view or walking a new path altogether. Living a life of bliss is achievable. You can step into your own power and accomplish the achievements you dream of. If you aspire to have the following, we will make a good team and I can help you achieve:
| | |
| --- | --- |
| | A new perspective on your life situation |
| | Provide the tools required to assist you in articulating your "life plan" complete with specific goals, achievable milestones and a clear idea of how to identify success; in essence, a road map to help you achieve your goals |
| | Be a support system that will accompany you on your journey |
Lynette Turner's New TV Show – The Positivoligist Is In The House
Join me on The Conscious Evolution Media Network live on the Internet
The link to the show is:
http://www.consciousevolutionmedia.com/?q=content/conscious-evolution-media-live-stream-youtube

Life can be quite the roller coaster ride and at times determining how to make the most of that ride can be an adventure. Join me, Positivoligist Lynette Turner as the host of The Positivoligist Is In the House-TV show, on the Conscious Evolution Media Network. Join me every two weeks on Thursdays at 7 PM Mountain, 9 PM Eastern and 6 PM Pacific. A TV-show that focuses on the power of living our lives with a positive focus and attitude, an array of guests will join me sharing their expertise on a variety of topics that can play a role in each of us living the most positive, productive and pro-active life possible. Settle comfortably into your favorite chair, and come on in. The Positivoligist is in the house. www.postitivebliss.com (See guest list below)

Show Guests-Mark Your Calendar and/or watch an archived show!

November 6, 2014
Maria Castillo, Past Life Regressions
YouTube Link: http://youtu.be/07BbrqWbZk8

November 20, 2014
Patty Brooks, Author of God is in the Little Things: Messages from the Golden Angels
https://www.youtube.com/watch?v=hCgqwiE0Wew

December 18, 2014
Adelita Chirino, The Power of Dreams
http://youtu.be/eQ-GN3Zjua4

January 8, 2015
CJ Golden, Author of Reflections From Beyond (near death experiences)
http://youtu.be/dxqdg4a4yw4

January 22, 2015
Carol Takacs, The Power of Rituals/Ceremonies
https://www.youtube.com/watch?v=FqDRg4QA6B4

February 5, 2015
Sonia Ketchian and Ty Holms, Spirituality and Social Justice
http://youtu.be/HQCwe4Y6Pyk

February 19, 2015
Carole Matthews, Mediumship
http://youtu.be/J-owRcs0grM

March 5, 2015
Susie Verde, Ambassador to John of God; Medium and Psychic Healer
http://youtu.be/BuOScZlxmVw

March 19, 2015
Lisa Graham, Integral Body, Mind, Spirit Healing Practitioner
https://youtu.be/6f7Y7JqRW54

April 2, 2015
Lionel Ketchian, Founder of The Happiness Club
https://youtu.be/PajTTc1RXAc

April 16, 2015
Janet Verney, Health-Author Roots 2 Wellness
https://youtu.be/gHejIjFbxO4

May 14, 2015
Chris Guerrara- Divine Feminine/Goddess
https://youtu.be/eMzYuIqbkAc

May 28, 2015
Terry Wildemann-Awaken the Possibilities
https://youtu.be/sxUMNc_LtV4

June 11, 2015
Sharon See-Holistic Nutrition
https://youtu.be/7LLEqhXmPYA

June 25, 2015
Deanne Mincer-Author, The 52: Discovering the True You in 52 Simple Lessons
https://www.youtube.com/watch?v=8UsWrBczKEU

July 9, 2015
Dr. Rosie Kuhn- How To Great and Manifest Paradigm Shifts-Author, Self-Empowerment 101
https://youtu.be/_nq9k7o9zAA

July 23, 2105
Lisa Blackman-Author, The Metaphysical Within-A Reference for Healing
https://www.youtube.com/watch?v=dPsyj8bqqiM&feature=youtu.be

August 6, 2015
Nadia Giordana-Author, Reinventing New Chapters In Your Life At Any Age
https://www.youtube.com/watch?v=64ieAxl9AUY

August 20, 2015
Susan Carollo-Spiritual Response Therapy (SRT)

September 3, 2015
Karly Randolph Pitman-Author, Sugar Addiction 101, and Overcoming Sugar Addiction
---
The Power of Song - I hope you enjoy this song The Act of Trusting, which I had the pleasure of recording. Lyrics, music and guitar are by the very talented Rick Frost. The song reminds us that the act of trusting is indeed an important and powerful path to walk. Click here to hear the song.
---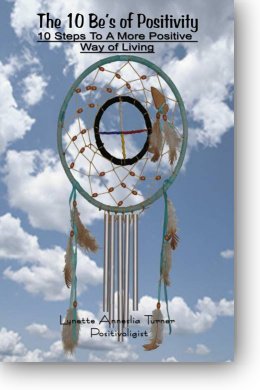 10 Be's of Positivity is a gift of deep wisdom in 10 small, easy-to-digest capsules of simple positive change. Absent are both the ego-heavy presentation of a lot of self-help books and the "you-should" prescriptions of many more. Lynette suggests readers use her book like a menu, selecting what they need at the moment to develop new thought and behavior patterns as they digest these 10 positive steps toward creating a happier life.

What others are saying:
"This is a practical book, filled with wisdom, which can easily be applied to one's daily life. The changes it can coach you into creating will help you to enhance the quality of your life and heal your emotional wounds." - Bernie Siegel MD author of 365 Prescriptions For The Soul and Love, Magic and Mud Pies

"During these times of transformation The 10 Be's of Positivity opens the door to introspection and healing with a loving gentle tug. Lynette shares from her heart personal anecdotes, sweetly whispers questions to the reader and offers powerful positive suggestions to initiate the change the reader desires. It is a cheerleader of support and love in book form!" - Kathryn Large, author of Waiting in the Other Room and Florence Scovel Shinn's Game of Life Unleashed!

Click into The 10 Be's to learn more and order your copy and one for a friend. Read endorsements and what others are saying here.
---
ARC Sacred Center Message by Lynette Turner - The Power of Living Authentically








Let's Spread the Word!
I am on a journey to engage like-minded people on the path of positivity. Please share this website with others and ask them to sign up below to receive a Free weekly Positivity Message and share the Power of Positivity with the world.
---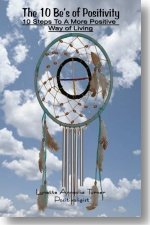 Order your copy of
The 10 Be's of Positivity
by clicking HERE!
---
Excerpts of Lynette's CD's
Click HERE!
---
Bliss OnLine!!
Express yourself with
Bliss - NOW!

---

Support Positive Change – Become a sponsor of The Positivoligist Is In The House TV show on Conscious Evolution Media Network

Life is indeed a blessing, and we can always find something to be grateful for, but we do all have our challenges. Be a part of the charge that helps reinforce the power of positivity in our lives by being a sponsor of my show, The Positivoligist Is In The House, which airs every other Thursday, live on the Conscious Evolution Media Network.

Your contribution helps defray the cost of offering the program and would be very much appreciated. Any amount would be deeply valued. You will be thanked on the air (if you like). If you are interested in having a 30-second spot recognizing your business, contact me at lynettepositivebliss@gmail.com and I can provide details on the level of support that can make that possible.

A positive attitude is said to assist us with our physical, mental, emotional and spiritual help. I am proud to be a conduit to help everyone understand how our attitudes can help us live the most engaged and positive life possible. My deep gratitude for your support.